Makes 9 little ones or 4 big
Like cookie batter, I never bother with small portions and these lovely cakes keep fresh wrapped in the fridge for days. The batter also will keep for 24 hrs so I often prepare it the evening before. You only need to add a little extra milk and give it a gentle stir to get the right batter consistency (like thick double cream).
Ingredients:
160g self-raising flour
1 tsp baking powder
1 egg, separated
1 tsp vanilla extract
60 caster sugar
pinch salt
250 ml milk
40g melted butter (microwave very low heat for 90 secs. with cling film cover)
Put the flour, baking powder, caster sugar and salt in a large mixing bowl. Add the vanilla extract to the egg yolk and combine these into the mixing bowl. Add the milk to the bowl and gently stir together. Add the melted butter into the batter. In a separate bowl, whisk the egg whites until stiff peaks form and then fold into batter using a spatula. It should have some bubbles and lumps but look glossy.
Cover the batter and put bowl into the fridge for at least 20 mins.
Spray a bit of oil in flying pan or use a paper towel to coat the surface. Everybody has their preferred pancake size, so just pour enough into a hot (but not sizzling) pre-heated pan to create yours. It is very important not to flip the pancake until bubbles appear on the top. Gently flip it over and cook bottom until golden.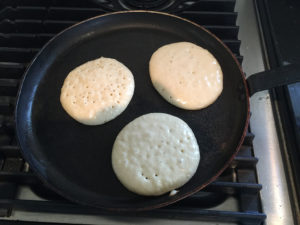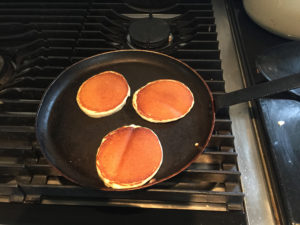 Serve with maple syrup!