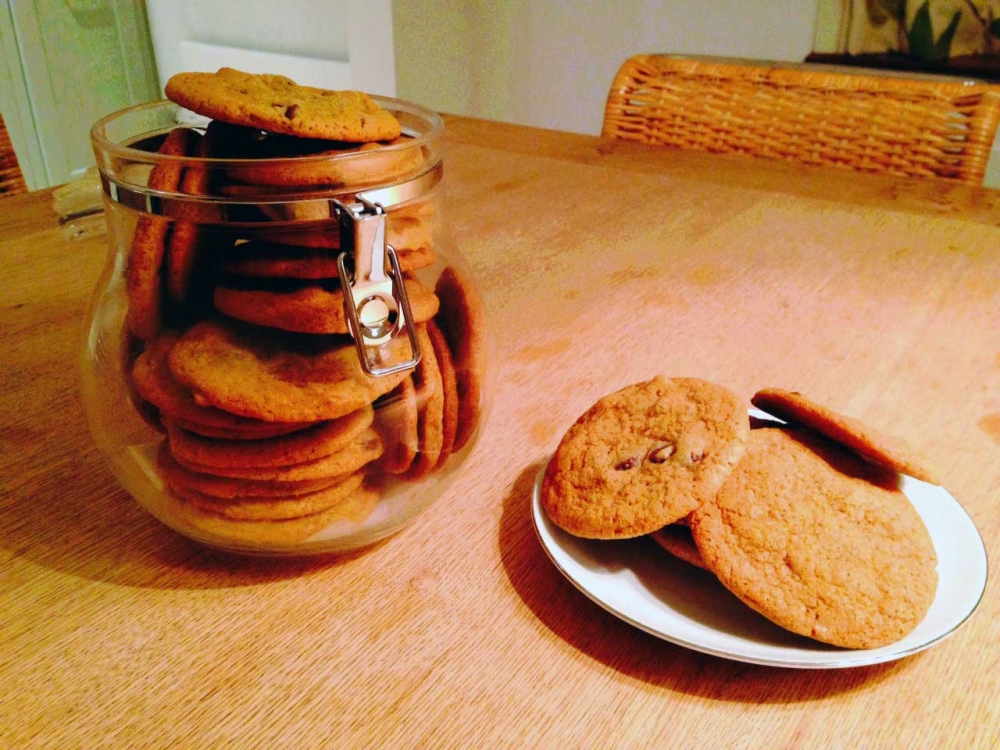 These cookies are my signature treat and I get asked to make a batch at least once a week and not just by my kids.
Recipe – English Measurements
Preheat oven: 160 C  – if you cook these low and slow they are crispy on outside and chewy on the inside
Baking time: 15 mins
---
175 g  plain flour
1/2 tsp baking powder
1/4 tsp salt
Stir flour, baking powder and salt together and set aside.
100 g butter (softened – get it out of the fridge an hour before you use it)
90 g caster sugar
75 g  brown sugar
In mixer bowl combine butter and sugars and beat until fluffy.
Add 1 egg and mix again until blended.
Add 1 tsp vanilla extract and mix again until blended.
Gradually add flour mixture until just blended.
Add 150 g chocolate chips and gently stir into cookie dough
Line your cookie sheet with baking parchment. Using two teaspoons, pick-up a little dough in one and transfer between the spoons to form into a ball. Then push the rounded tsp of dough onto a cookie sheet. Place on the bottom oven rack and bake for (12- 15 mins) until edges look crisp and top is light brown.